–
Sometimes it can feel that you are overwhelmed with the amount of reading that is on your 'ToDo' list – articles you have saved to read later online; all the fantastic articles to read on UKEdChat.com (!); research articles; news articles – it can sometime seem like a never ending list. Many people still struggle reading longer texts online as it can be inefficient so therefore do not fully engage and persist with such articles. This may be a generational issue, but with so much information out there, how is it possible to read so much content efficiently?
Speed Reading technology is now becoming more advanced with web and mobile apps developed to shorten the time you fixate on a word. Slate summarised how most of us read:
"…reading is an appallingly mechanical process. You look at a word or several words. This is called a "fixation," and it takes about .25 seconds on average. You move your eye to the next word or group of words. This is called a "saccade," and it takes up to about .1 seconds on average. After this is repeated once or twice, you pause to comprehend the phrase you just looked at. That takes roughly 0.3 to 0.5 seconds on average. Add all these fixations and saccades and comprehension pauses together and you end up with about 95 percent of all college-level readers reading between 200 and 400 words per minute…"
The Rapid Serial Visual Presentation (RSVP) method is used by most of the recent digital speed reading systems. Single words flash on the screen so you concentrate on a single word at a time. As you get used to the system, you speed up how fast the display shows you words. Spritz are developing the technology that is starting to be used by some web and mobile apps – you can see an example of this system below: (Article continues below image)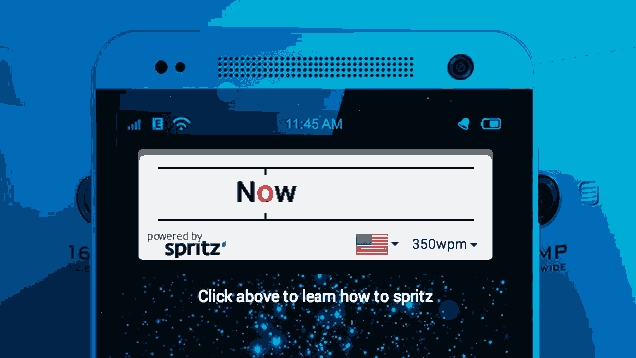 Here are some apps for you to try out to help improve your online reading efficiency:
Web – Spreeder – https://www.spreeder.com/ (Copy/Paste Text).
Web – Readsy – https://www.readsy.co/ (Insert URL, or upload PDF, or copy/paste text).
Web – Spreed (Chrome Browser Plug-in) Spreed (Highlight Article Text and click play).
iPad/iPhone – Outread (App Store Link) £1.99* (Allows you to speed-read websites, ebooks and documents).
Android – A Faster Reader (Google Play Store Link) Free, but offers in-app purchase to release full capability of the technology.
Does this technology help within education? Certainly not for the less confident or emerging reading stage, and possibly not to be used when 'reading for pleasure', but for the more advanced reader, who is trying to read and absorb lots of information text, then the technology may have a value in selected classrooms. With reading, comprehension is essential, so if you are finding that this method of reading is not helping your understanding then either: (a) reduce the words per minute speed, or (b) go back to what you are comfortable with.
Image Source | Reference:  Zheng Songhui, (2008) "The influence of traditional reading habits on the construction of digital libraries in developing countries", Electronic Library, The, Vol. 26 Iss: 4, pp.520 – 529
---
You need to Login or Register to bookmark/favorite this content.